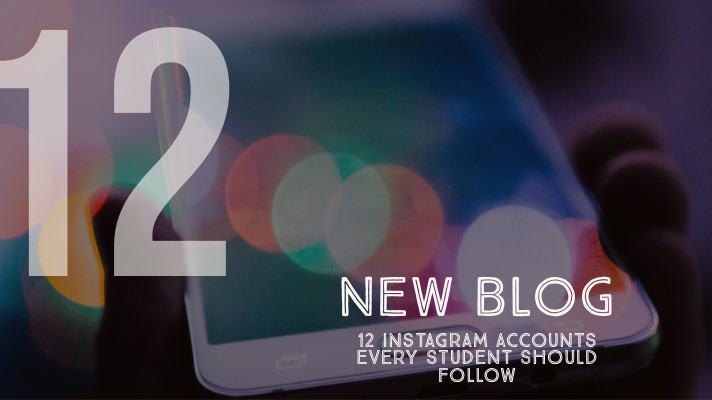 Whether its exam pressures, coursework deadlines, hangovers or stocking up on instant noodles for the rest of term because you blew all your money during freshers week, nobody said being a student was going to be easy! So in honour of this we're providing a list of useful accounts to follow which should help you navigate through uni life.
FOOD
@miguelbarclay
Miguel Barclay makes gourmet meals for a pound or under - and has gained more than 300,000 followers after he posted videos of how to create the dishes on Instagram. He's got a few cook books too!

@Buzzfeedtasty
OK this is one of our favourite accounts on the list! Buzzfeedtasty have some great recipes and post 30 second instructional videos showing how to create the dish. With over 35.8m followers it's fair to say this is pretty popular account!

TRAVEL
@bestonlinetraveldeals
With rent to pay and exams to study for, how can any self-respecting student think they have any funds for travelling? Well, bestonlinetraveldeals have you covered! Although this is a showcase account (which means they don't post deals directly on Insta as you have to visit their website) its certainly worth a follow!

@Muradosmann
Russian artist Murad Osmann is best known for his ongoing "Follow Me" series of works featuring his girlfriend Nataly Zakharova leading him around the world. Traveling to exotic locales and known landmarks alike, the images intrigue and endear viewers to the extent that the series started due to its viral social media success. Worth a follow for some travel inspiration!

STUDY
@studywithmaggie
Maggie is a 20-year University of Bath student with over 45k Instagram followers. Her beautifully curated Instagram account focuses on sharing her study tips and tricks which include a lot of colour coding!

MOTIVATION
@garyvee
Gary Vaynerchuk is an American serial entrepreneur and author. He is also a famous speaker and internationally recognized internet personality. He is four-time New York Times bestselling author and provides his 7.5m Instagram followers with regular tips on staying productive, personal development and planning for the future.

WELLBEING
@marcelailustra
Marcela Sabia is a Brazilian illustrator who dedicates her social media feed to health and well being by providing her followers with beautifully designed illustrations about remaining positive through difficult times.

LIFE HACKING
@life_hacks
Describing itself as "the most helpful page on Instagram" Life_hacks provides its followers with hundreds of time saving, cost effective tips on pretty much anything and everything you can think of.

FINANCES
@brokemillenialblog
The broke millennial account is run by Erin Lowry, a best-selling author who has created a lifestyle and personal finance blog and paid off six figures of student loan debt and is now on the path to financial independence and early retirement through side hustles. Definitely worth a follow if only for the money saving tips!

@thefinancebar
Another one of our favourite account on this list. The Finance Bar posts regular money saving tips which must work as they have over 157k followers!

GOAL SETTING
@timferriss
Tim Ferriss is the author of four New York Times best-selling books including "The 4 Hour Workweek". He is an early stage advisor to Uber, Facebook, Shopify and many more highly successful companies. His Instagram account provides excellent tips on goal setting, as well as showing off his pretty interesting life!

INTERIOR DESIGN
@dormify
When you get to uni you'll want to zhuzh up your room on a budget. Look no further than Dormify for some excellent interior design cost saving tips.
So there you have it. If there's any other accounts you find useful and we've missed off the list please let us know by commenting below.