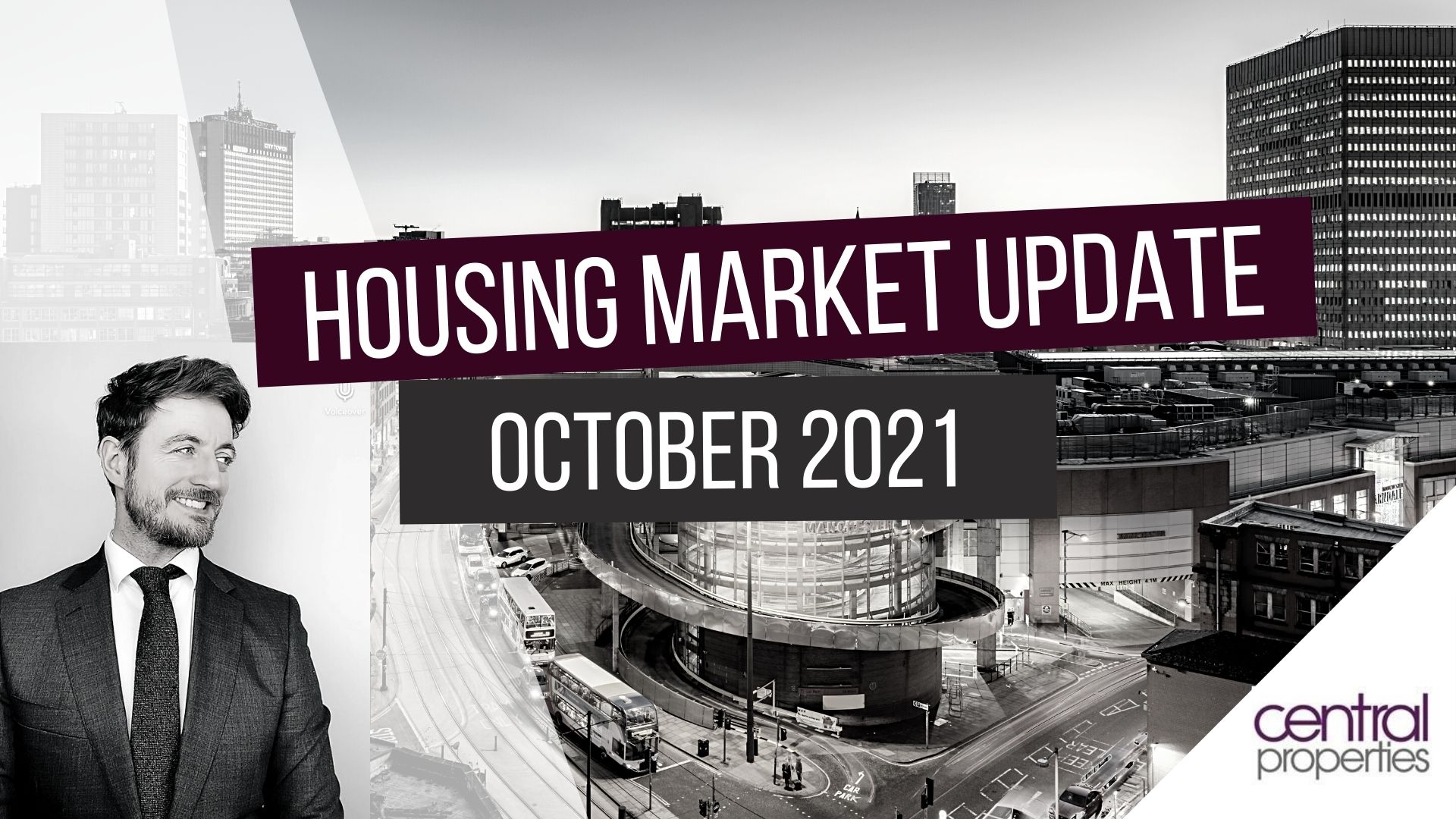 With house price inflation at +6.9% up to end of October, a +3.5% increase from October last year, its safe to say its been another bumper year for the housing market.

The average rate of growth over the last three months is higher than at any time since 2014, underlining the strength of current market conditions. One in 16 privately owned homes has changed hands this year, compared to one in 20 in 2019.

Among the UK's largest cities, Liverpool, Manchester and Sheffield have shown the highest rates of growth, at 10.6%, 8.7% and 7.9% respectively: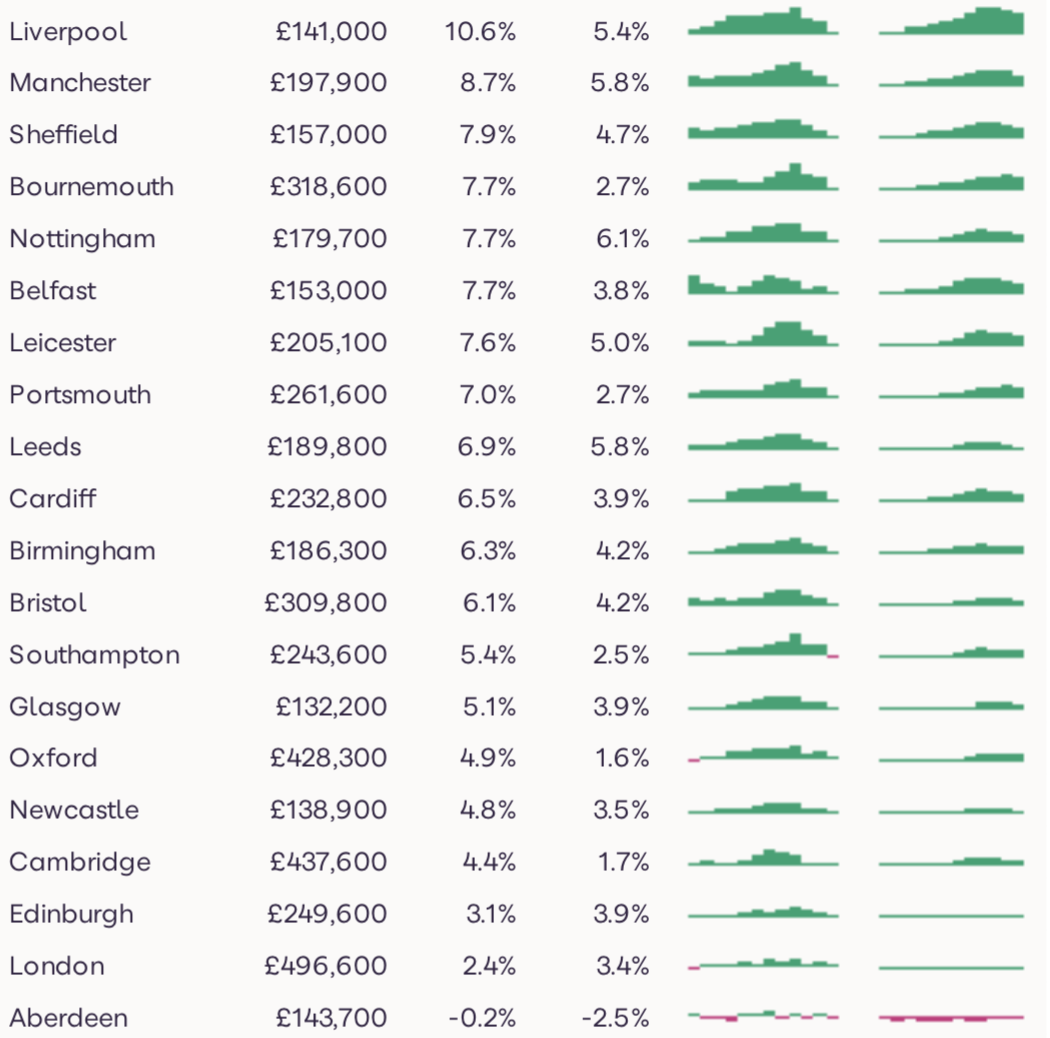 Source: Zoopla House Price Index

However, house price growth is now starting to ease as we approach the end of the busiest market since 2007.

Prices
Annual property price growth remained in double digits in October despite the end of market incentives such as the stamp duty holiday. Across the UK the average price of a property in October was £268,349, 10.2% higher year-on-year. Month-on-month average prices fell by 1.1% (UKHPI).

According to Zoopla, the average value of houses is up 8.3% on the year, double the five-year average of 4.2% growth. Flats are up 1.6%, just above the five year average of 1.2% annual growth.

The general consensus amongst agents is that prices will rise over the next 12 months as stated in the October sentiment survey released by the Royal Institute of Chartered Surveyors.
One in 16 privately owned homes has changed hands this year, compared to one in 20 in 2019.
Demand

At 38 days Rightmove report the average time taken to secure a buyer in November 2021 is two weeks quicker than a year-ago. Demand levels remain higher than a year ago, and 20% up on the pre-election figures of 2019. Valuations requests are up 19% year-on-year suggesting the New Year could see an uptick in instructions.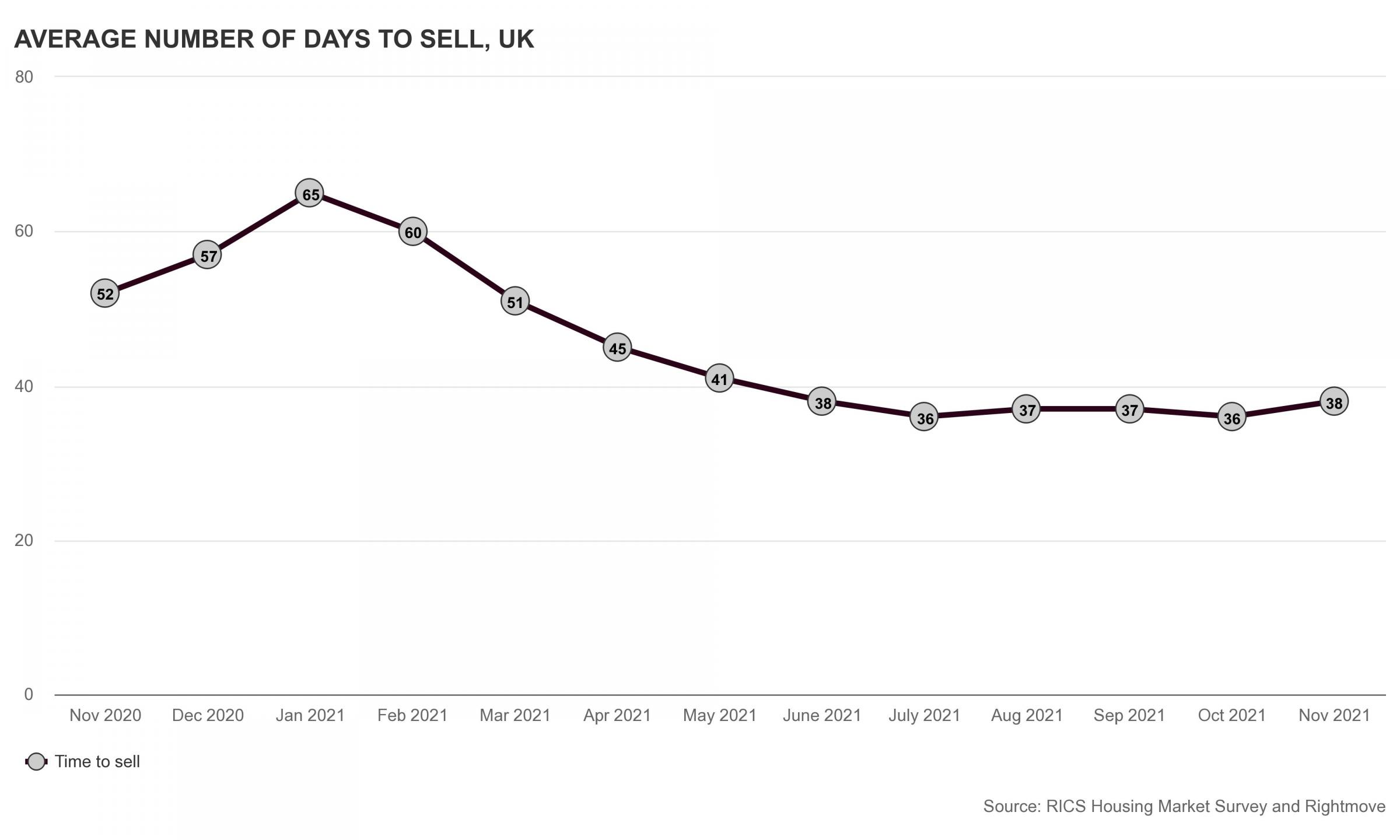 otal supply o
Total supply of homes available for sale is -42% below the five-year average. When looking at houses, lack of supply increases with 55% fewer available for sale (Zoopla).

The increased demand for, and resulting erosion of stock for houses highlights the increased appetite for space among those purchasing homes since the start of the pandemic.

There is more demand for larger homes, especially in commuter zones and more rural areas.

Mortgage approvals in October were at their lowest monthly total since May 2020 according to the Bank of England, with 67,199 mortgage approved. However mortgage approvals were 3.5% above October 2019, suggesting housing market demand is slightly above 'normal' levels: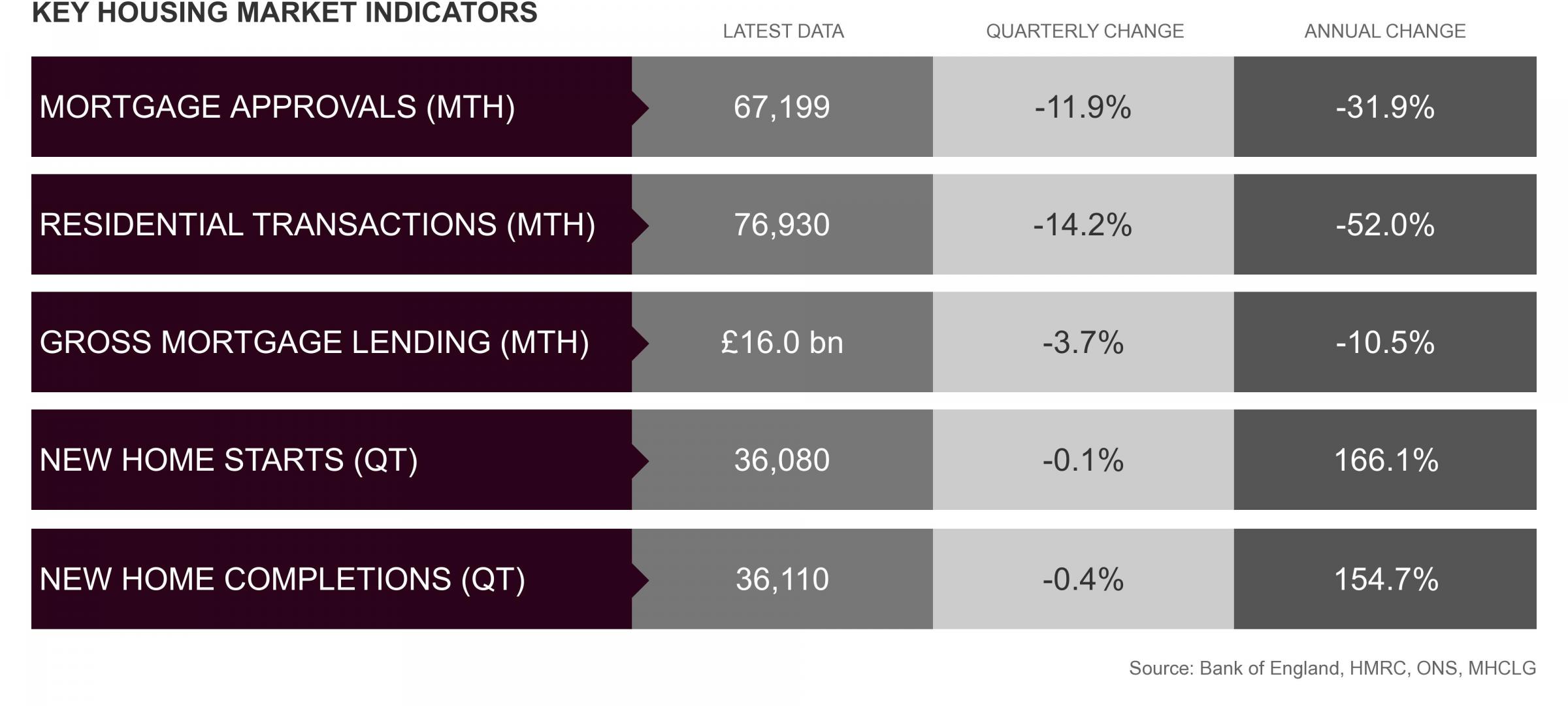 Investment/lettings

Average values across the UK, excluding London, rose by 2.5% in the year to November. The ONS report rental values are rising across all regions of the UK except London where were -0.1% lower year-on-year. The South West and East Midlands are currently experiencing the strongest rates of growth.

Respondents to the latest RICS sentiment survey now project rents to rise by close to 4% over the next year, with respondents foreseeing rental growth over the next five years averaging close to 5% per annum.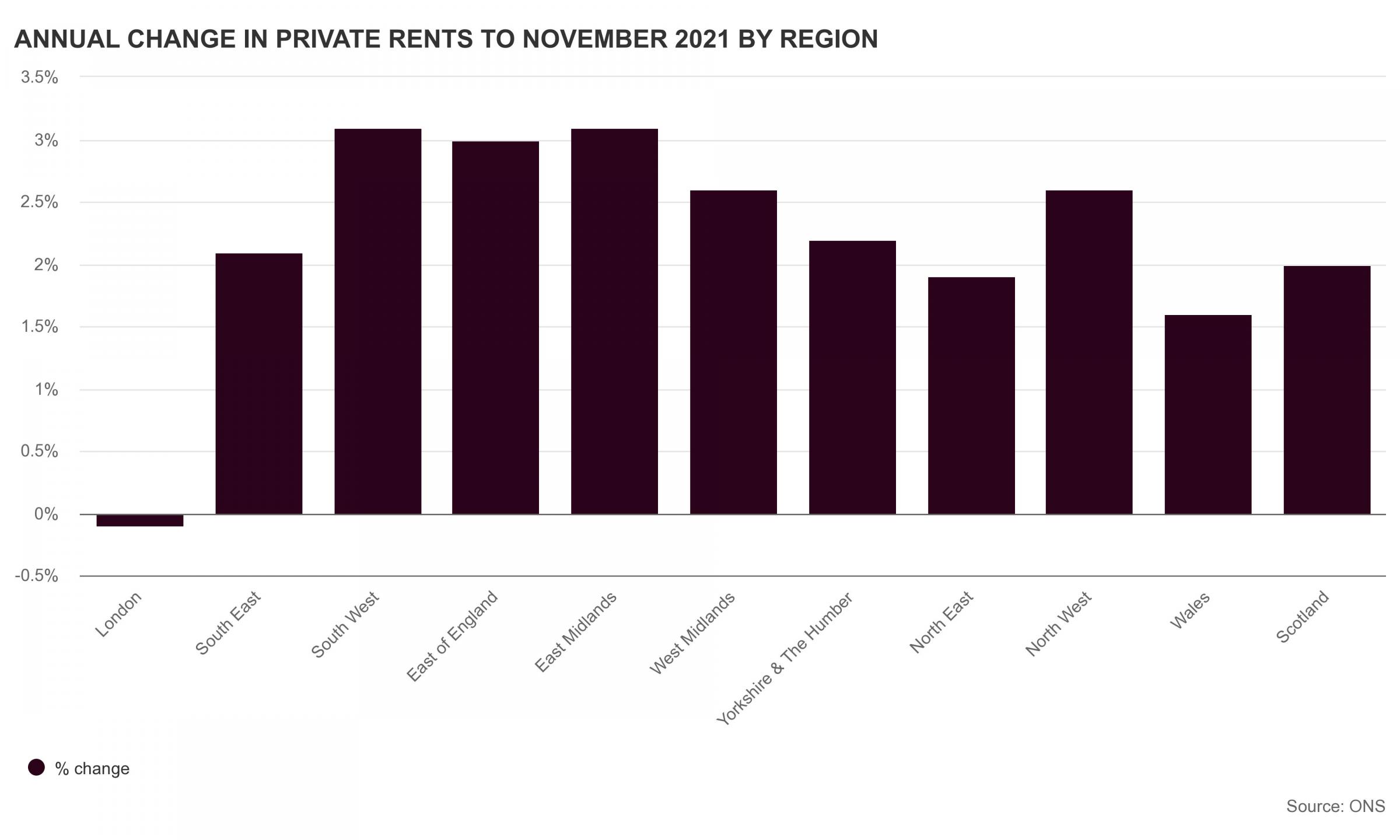 Outlook

New supply will start to rise at the turn of the year as households use the holiday period to make a decision around making a move.

In typical years, the highly seasonal supply of homes being listed for sale slows in the run up to Christmas, but rises sharply in the new year.

On average, the supply of listings at the end of January run some 50% higher than the start of December.

Buyer demand will likely remain strong moving into next year, but as the market starts to normalise in 2022, in terms of the mix of buyers, there may be more churn and slightly less demand from those with nothing to sell, such as investors and first-time buyers.

This should ease the constraint in supply to some extent, although continued lower levels of supply are expected to continue to underpin pricing next year.

Other factors that will affect prices next year include the looming economic headwinds in the shape of rising inflation – which will push household costs higher.

The Bank of England could reply by raising interest rates, leading to mortgage rate rises, which will impact buyer sentiment, especially among those unused to rate hikes.

Even so, mortgage rates are likely to remain relatively low compared to long-run averages, and there is more room for price growth across some of the most affordable housing markets.

House prices are forecasted to rise by 3% next year, and forecast 1.2 million transactions, down from 1.5 million this year, but in line with the average number of transactions over the last five years.

Sources: Zoopla HPI, ONS