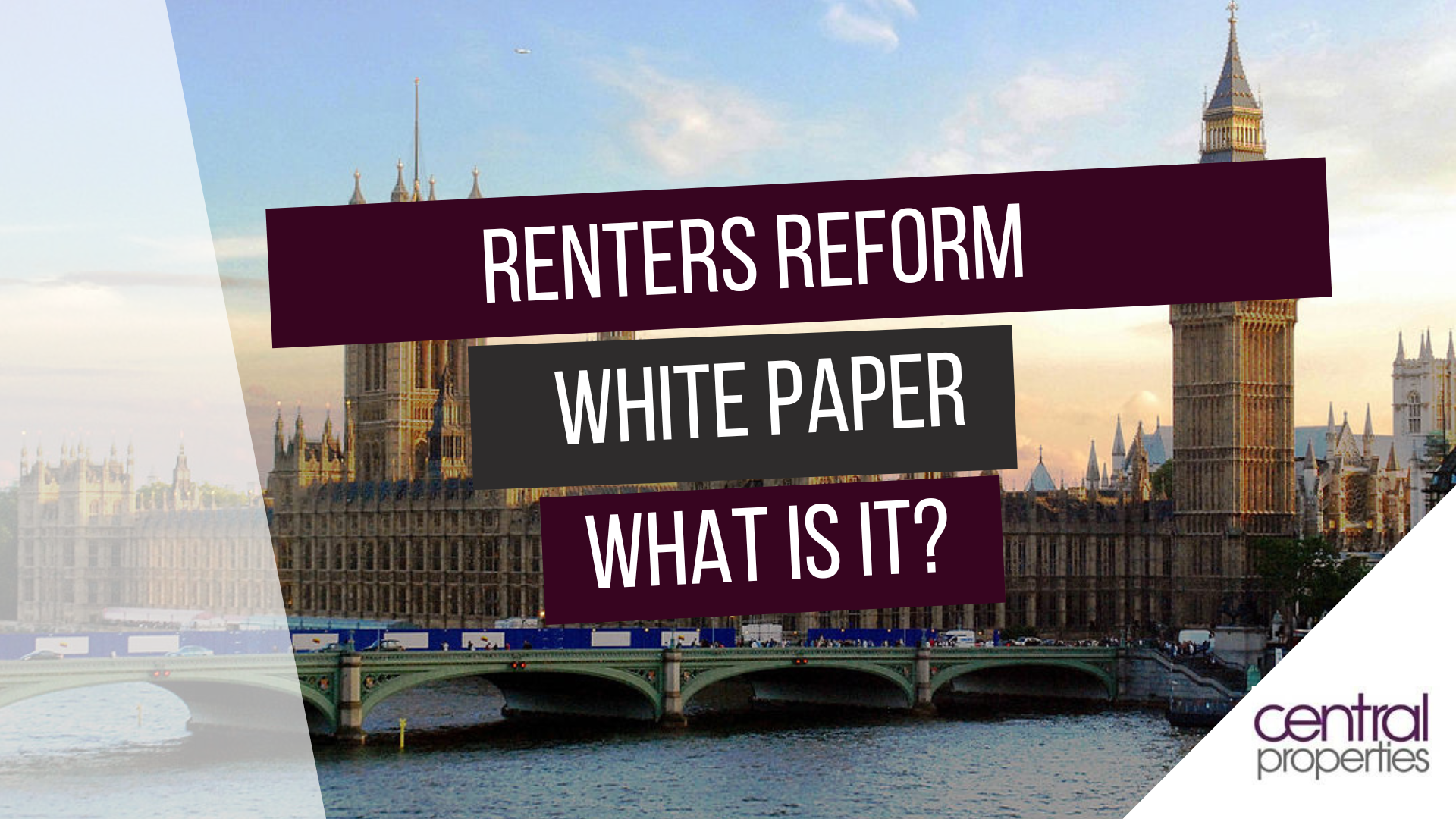 Last week saw the eagerly anticipated release of the Renters Reform White Paper which is being billed as the biggest upheaval in private renting in England since the introduction of the Housing Act in 2004.

The main changes as proposed by Government are as follows:

Abolition of Section 21 & the removal of fixed term tenancies

The removal of Section 21 comes as no surprise. The Government made it clear from consultation back in 2019 they intended to remove this from the Housing Act 1988.
The service of Section 21 notices allows a landlord to recover possession of a property following the expiry of a fixed term tenancy, with no reasons required for service. This has been floated around in media as "no fault" evictions.

However, the White Paper not only proposes their total removal from the Housing Act but seems to be going further and simply abolishing fixed term tenancies altogether, similar to how Scotland introduced Private Tenancies. This means all tenancies will be essentially periodic from the start, leaving tenants reasonably free to give notice and exit when they wish. Landlords will not have the same luxury and will only be able to evict tenants with cause. Those causes are to be strengthened to allow for property sale and moving back in, as well as the introduction of six other grounds. The details of legislation will matter here.
Our thoughts
Landlords do not remove good tenants who pay their rent on time, look after a property and cause little disruption to those around them. Section 21 notices have been used by many landlords to remove antisocial or non-paying tenants using an expedited court process known as "accelerated possession" which can be quicker but more importantly guarantees judgment by the court, unlike some of the more discretionary grounds for possession.

By removing Section 21 both landlords and agents will be even more diligent in vetting potential tenants, strengthening their income requirements and finding out more about their tenancy history, which will likely result in many being turned away.

The immediate concern is the removal of fixed term tenancies and how this will work in practice across the student market. By the time this legislation comes into force we expect there to be amendments/exceptions to those renting to students where pre-letting a property is done 8/9 months in advance of tenancy start date. If tenancies are periodic, there cannot be a fixed end date which could make pre-letting more difficult. However, even in the current system, pre-letting always carries an element of risk if the tenants do not move out.

We could see a situation where students only reside in their university accommodation during term time i.e., ten months instead of twelve with a summer void. If we look to Scotland where similar measures have been introduced, landlords have been able to increase the rent to offset against a summer void meaning they still receive the same gross rent over the course of a year.
Recovering possession

With the creation of periodic tenancies as suggested above, landlords will require additional means to seek possession where the tenant is at fault, or they intend to sell or move back into the property. The White Paper provides new powers to recover possession from antisocial tenants and strengthened grounds on rent arrears. Bailiff resources are to be improved and there is to be a drive to list initial hearings sooner in antisocial behavior cases.

Our thoughts
While it is good to hear that the Government notes the problems landlords have in removing bad tenants and thereby proposes strengthening these grounds, the reality is that the legislation is not really the problem. The problem today is the total lack of funding for the backlogged and over worked court system. That is the real bar to obtaining possession.


Doubling rent increase notice periods so tenants have longer to challenge if unjustified

At this stage the proposal does not give much information regarding how this will work, but it seems seems likely that all rent reviews will have to be by way of the statutory Section 13 mechanism with a longer notice period, and not by forward dated rent review dates written into a tenancy agreement.
Currently Section 13 notices can be issued following the expiry of a fixed term and allow a landlord to review the rent to market rate with a period's notice (period meaning the payment terms of the contract i.e. monthly, quarterly etc.).

Our thoughts
The white paper says that increases will only be allowed once annually but this is part of Section 13 already, and few landlords use increase clauses that push rents up more often than once a year.
Outlawing 'blanket bans' by landlords or agents on renting to people receiving benefits or families with children

Landlords are currently prohibited from discriminatory advertising against those on housing benefit, so this comes as no surprise.

Our thoughts
With tenant demand outstripping supply in today's rental market, it is likely that landlords and agents will continue to select the most financially secure tenants for their properties, but rather than denying tenants with benefits outright, each tenant will be assessed by income (less benefits) and if too low they won't meet target income requirements.

This is what most Agents have been doing for years so there is to be no real process change. However, what could happen is a surge in efforts to "pre-qualify" tenants to avoid wasting time with applicants who are unlikely to meet criteria.

Tenants can request having a pet in the home and landlords can't "unreasonably refuse"

This seems like a vote grabber from the Government with wide support from both sides of the aisle. However, in practice how many tenants want a pet? Not a huge portion if poll numbers are to be believed.

Our thoughts
The way in which this is written into legislation will likely contain exceptions and conditions which will make it unworkable in practice. It appears that one of the main barriers to pets which was caused by the Tenant Fees Act is also to be reduced by allowing landlords to require pet-owning tenants to buy pet insurance.

Creation of a new Private Renters' Ombudsman to settle disputes between private renters and landlords at low cost and without going to court

The Court system is not fit for purpose with substantial numbers of backlogged cases, further exacerbated by the pandemic. The reality is this type of private justice has been growing in the sector for some years and is therefore likely to continue.

Introduction of a property portal to help landlords understand their obligations and give tenants performance information to hold their landlord to account

At this stage we are being told this is NOT a landlord register, but to be used like an advice portal for landlords but with some information from the register of rogue landlords and agents included. The devil will be in the detail!

Deposit Passport
There remains a commitment to develop some form of deposit passport to avoid tenants having to have to pay a second deposit when they move home with the first one being returned later.
However, this is practically difficult, and I suspect it will continue to be more of a commitment than action.

General thoughts

It is clear that tenants' right lobbyists such as Shelter and Generation Rent are very pleased with the proposed raft of changes. With the exception of periodic tenancies, none of the other changes come as much of a surprise for us in the industry.
However, the reality is that these measures will inevitably drive more smaller landlords, already squeezed by years of regulation changes and rising costs, to leave the market thereby further reducing an already decimated national rental stock and leading to higher rents for tenants as landlords try to offset costs.
It is also clear that these measures have been introduced without clear thought or consideration to the wide variety of submarkets included within the PRS. Not all landlords rent to families or tenants with benefits so there will be a lot for landlord action groups to lobby Government before the legislation is introduced.
For those who operate in the student market, the biggest concern is the removal of fixed term tenancies. Preletting always carries some form of risk of tenants not moving out at the contractual expiry, however, in the proposed changes tenants will not have to move out at the end of the contract.
If we look to Scotland where similar changes have taken hold in recent years, what we have seen is the removal of 12-month contracts with students only paying for accommodation used in term time i.e., 10 months, leaving a summer void. However, landlords have increased rents to cover the summer void so they still receive the same gross rent each year, I expect this could be a possibility for the English student market.

I would expect there to be quite a few amendments to the proposals before they are finally written into legislation.
Ref.
David Smith – JMW Solicitors
Property Industry Eye
Letting Agent Today