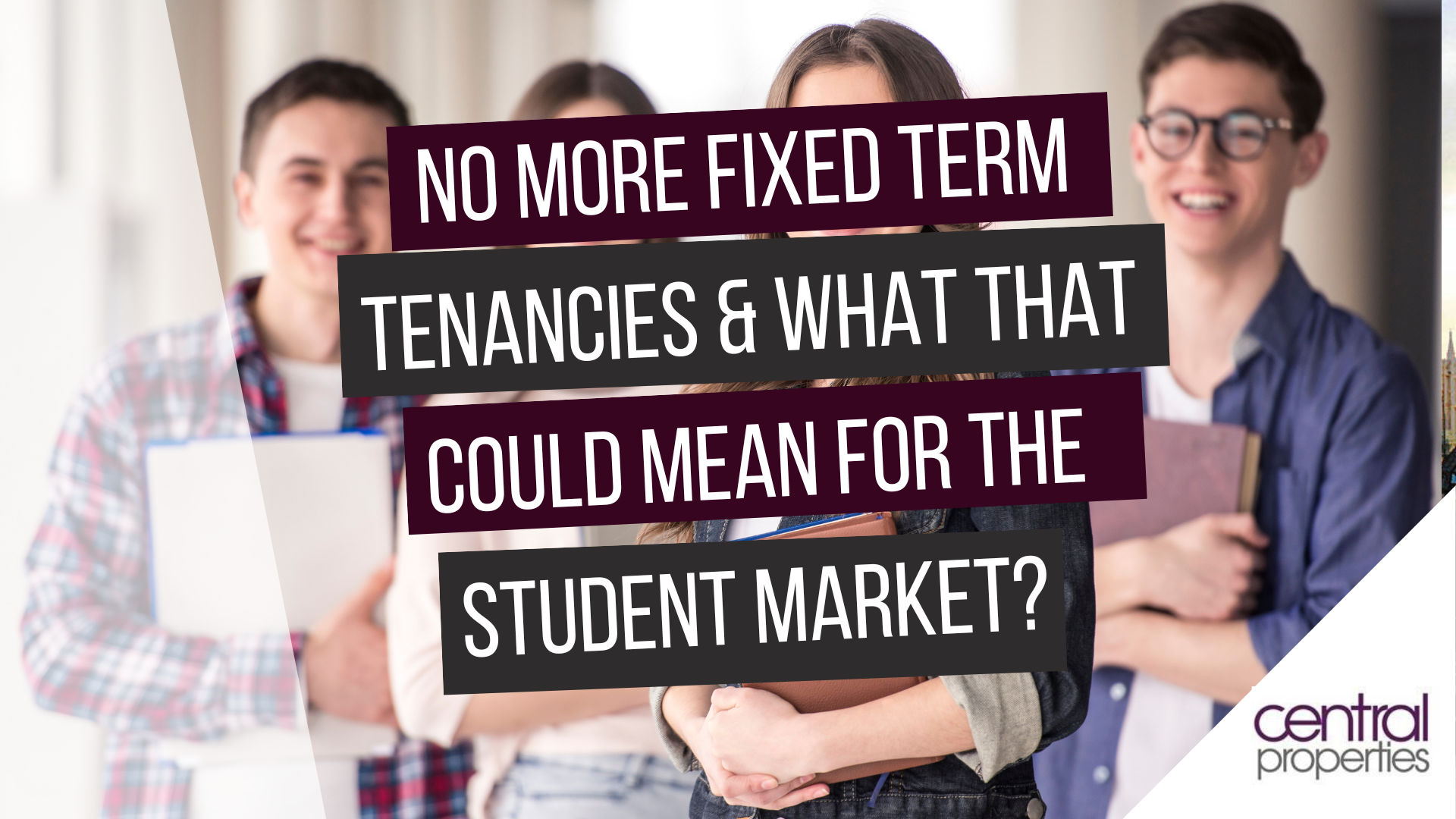 The Renters Reform White Paper is being billed as the biggest upheaval in private renting in England since the introduction of the Housing Act in 2004.

The main changes put forward by Government can be found in our June 2022 blog post here.

However, in this article we will focus on the possible implications the removal of fixed term tenancies may have to the student rental sector.

The Student Rental Sector

Unlike in other rental markets where properties are advertised empty or shortly before a property become vacant, student properties are marketed and secured months in advance in line with the university academic cycle. In Leeds for example, the prime student letting months are from November to February where students will secure a property to move into in July, August or September the following year.

Renting properties this way provides students with the certainty they will have somewhere to live when their academic course starts in September.

The typical accommodation pathway of a UK undergraduate is to rent via halls of residence (or PBSA) in their first year, before moving straight into the Private Rented Sector (PRS) where they will rent from a private landlord for their second and third years.

Problem for Students

With no fixed term tenancies landlords would have no certainty that a property would be ready for the following year's students. They won't be able to guarantee there is accommodation there for the incoming student group because the existing tenants could, at the last minute, decide to stay, creating unprecedented uncertainty for both landlords and students.

This inability to forecast income would inevitably lead to some landlords leaving the sector, exacerbating the shortage of good quality housing and pushing up rents for those remaining properties.

In January 2022 the average PBSA rent circa £150.00pppw across a 52 week period compared to £93.00pppw for an off street HMO. Private student landlords therefore serve an important role in the delivery of student accommodation nationwide. It is an affordable alternative to PBSA and, an essential part of the university experience for the majority of domestic students who rent this type of accommodation.

To see what might happen if the bill moves forward in its current form all we need to do is look to Scotland where similar measures were introduced in 2017.

A lot of student landlords have moved out of student housing in HMOs and as a result students in large university towns like Glasgow, students struggling to find suitable accommodation in cities like Glasgow:

https://www.bbc.com/news/uk-scotland-glasgow-west-58822372
"This is an area where the government needs to look again. We think there should be two things: we want students to be exempt, or more accurately given parity with the PBSA market; and we want the ability to get property back at the end of the term, leaving it to landlords and tenants to create a fixed term of some description."
Problem for Landlords

The removal of fixed term tenancies has the potential to create a lot of uncertainty for landlords and agents. Not only will they be at risk of defaulting on a contract by pre-letting a property should the sitting tenants decide not to vacate, but the option for tenants to provide 60 days notice at anytime to end the tenancy could lead to empty property at bad time of year for renting.

A few scenarios student landlords could face are listed below:

1. Student groups giving notice in Feb and then moving out after exams in April.
2. Student group refusing to leave , meaning you can't place your new group into the property for the next student cycle.
3. Student groups falling apart in September and moving out mid term.
4. Potentially losing your C4 HMO use class status in an Article 4 areas because you put the property on Air BNB or had to rent to a family to cover costs once students vacated mid-term and now you can't demonstrate continuous use with ASTs.

PBSA exemption

In what seems like a contradiction/special privilege in policy, PBSA providers have been provided with exemption to the bill and can still offer fixed term contracts and require possession at the end of the fixed term tenancy.

Unipol's Martin Blakey believes the obvious solution is to make all student accommodation exempt from the new legislation and allow fixed-term contracts. Students would be easy to categorize for legal purposes, as there is a clear definition for Council Tax purposes in the 1972 Local Government Finance Act.

What needs to happen

The potential implications are clear. Unless students are made an exemption like PBSA, its likely going to result in a loss of supply in the sector, despite their being unprecedented tenant demand for this type of off street HMO accommodation.

"This is an area where the government needs to look again. We think there should be two things: we want students to be exempt, or more accurately given parity with the PBSA market; and we want the ability to get property back at the end of the term, leaving it to landlords and tenants to create a fixed term of some description."

Both the NRLA and Unipol said they would be lobbying the new housing minister in the next prime minister's administration for changes to the bill on student accommodation.

However, in the meantime its important for all affected landlords to contact their MP and voice their concerns about the bill. The Government have applied a one solution fits all answer to the housing crisis with little understanding of how the PRS works, and the likely implications of how student landlords and tenants will suffer as a result,

Landlord groups such as the NRLA have produced a template letter to be sent to your MP which can be downloaded here:

https://www.nrla.org.uk/campaigns/rental-reform

We strongly recommend you download this template and send it to your MP asap while consultation is still taking place.

I can't think of much more important thing for student landlords to do right now.